Saint Josemaria was born on January 9, 1902. Here are four videos about his life and teachings.
For Saint Josemaria's birthday on January 9, we offer some excerpts from an article published by "Real Clear Religion" entitled "The Tweetable Saint."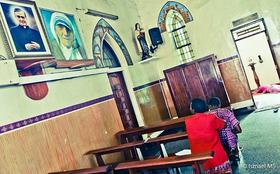 A new video of Saint Josemaria offers 44 brief clips from his oral preaching between 1972 and 1975 in Europe and Latin America. It can be downloaded or purchased from Beta films with English subtitles.
You don't feel like doing anything and there is nothing you look forward to. It is like a dark cloud. Showers of sadness fell, and you experienced a strong sensation of being hemmed in. And, to crown it all, a despondency set in, which grew out of a more or less objective fact: you have been struggling for so many years ... , and you are still so far behind, so far. All this is necessary, and God has things in hand. In order to attain gaudium cum pace -- true peace and joy, we have to add to the convicti...
...on of our divine filiation, which fills us with optimism, the acknowledgment of our own personal weakness. (Furrow, 78)
Even in moments when we see our limitations clearly, we can and should look at God the Father, God the Son, and God the Holy Spirit, and realize that we share in God's own life. There is never reason to look back. The Lord is at our side. We have to be faithful and loyal; we have to face up to our obligations and we will find in Jesus the...

"I dream — and the dream has come true — of multitudes of God's children, sanctifying themselves as ordinary citizens, sharing the ambitions and endeavours of their colleagues and friends."
SAINT JOSEMARÍA

, Founder of Opus Dei