A brief video about the message and purpose of Opus Dei.
How does Opus Dei help its faithful and those who take part in its activities grow in their Christian life?
With texts and prayers from Saint Josemaria, a novena for the nine days leading up to the feast of the Immaculate Conception of Mary on December 8 is...
From November 6-12, the first cultural initiative of the Saxum Foundation was held in the Holy Land, with 450 people from five continents taking part.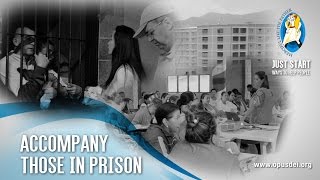 The final video in the series on the works of mercy, for the Jubilee Year of Mercy.
You must never treat anyone unmercifully. If you think someone is not worthy of your mercy, you should realize that you don't deserve mercy either. You do not deserve to have been created, or to be a Christian, or to be a son of God, or to have the family you have... (The Forge, 145)
Many other scenes of the Gospel have also made a deep impact on us, such as his forgiveness of the adulterous woman, the parable of the prodigal son, that of the lost sheep, that of the pardoned debtor, the resurrection of the son of the widow at Naim [1]. How many reasons based on justice could Christ have found to work this great wonder! The only son of that poor widow had died, he who gave meaning to her life, he who could help her in her old age. But Jesus didn't perform the miracle out...